Finding the right freelance content writer in Sri Lanka for any project requires a lot of thought. Your content writing can make or break your project.
Be it a web copy, articles, video script or social media content you need, understanding what exactly you need and who exactly you should hire should be a thorough process.
In this article, we share how to hire a content writer the right way to get the best results for your money.
Step 1 – Understanding The Requirement
Your writer may be the finest landing page copywriter in the world, but he or she may be terrible at producing engaging and insightful articles. The same can be said for many other sorts of content.
So you will need different types of content writing services based on the content you want to produce.
Often freelance content writers are specialized in one or a few areas. So know the type of content writing services you need for the project. Then, start looking for a writer.
---
Step 2 – Finding A Freelance Content Writer in Sri Lanka
First things first, you need to find good content writers. There are a couple of places on the internet where you can easily find freelance content writers in Sri Lanka. They are,
Freelancing Sites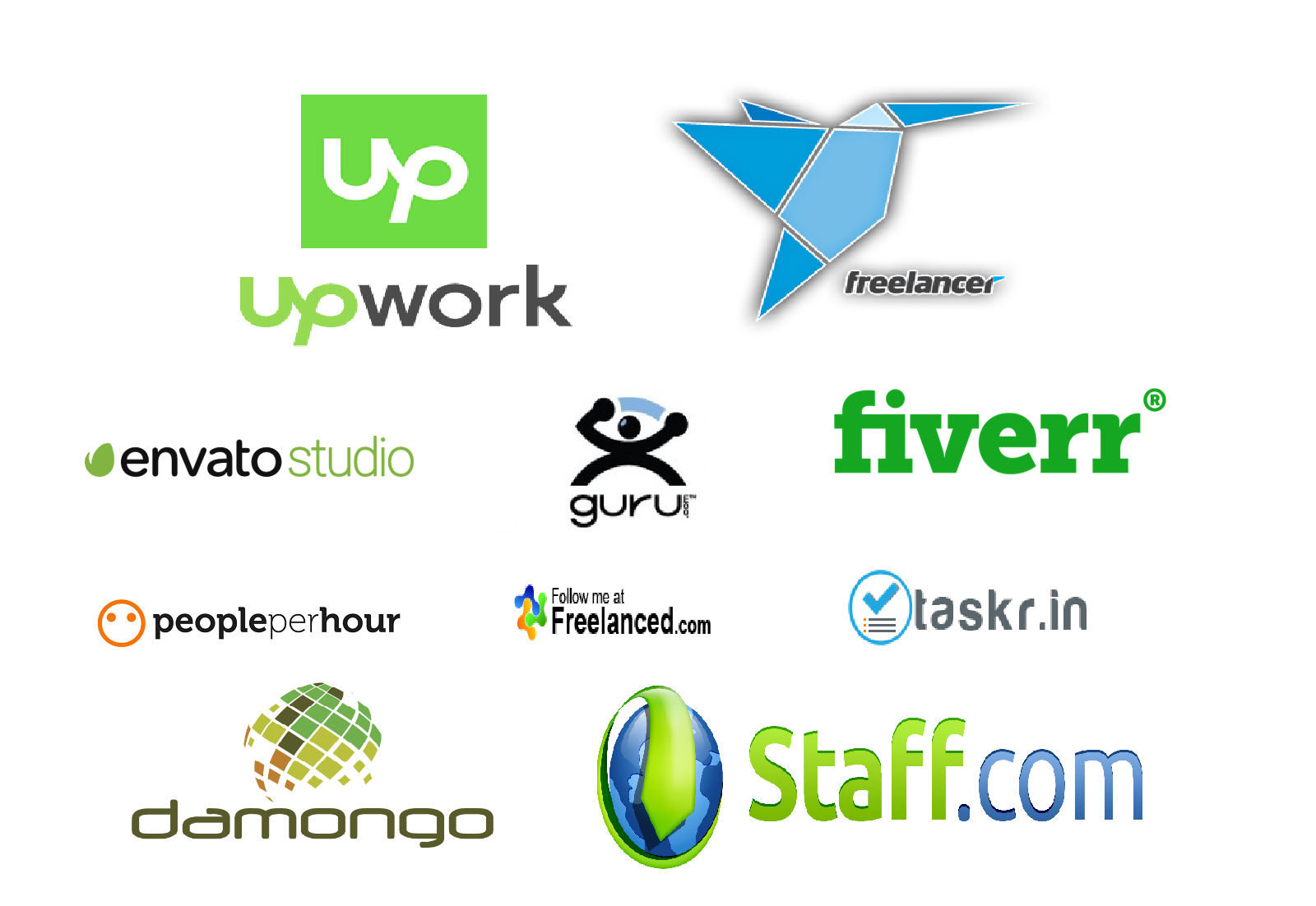 Check for local freelancers on Upwork and Fiverr. You will find a lot of Sri Lankan content writers at very affordable prices on freelancing platforms.
Many writers on these platforms will have a profile that includes a brief bio, writing samples, and client feedback. This will give you an idea of the writer's skills, experience, and writing style.
Also, check their ratings and reviews. It will give you an idea of the quality of their work and how well they communicate with clients.
Some writers on these platforms will have a calendar that shows when they are available for work. This will help you find a writer who is compatible with your work hours.
Social Media
Social media is a great way to connect with writers and find the best one for your project. From Facebook and Linkedin to Twitter, you can go to your favourite platform and find good talent. However, Facebook and Linkedin are our top choices when looking for content writers in Sri Lanka on social media.
How to find content writers in Sri Lanka on Facebook?
Facebook is one of the best social media platforms to find content writers, as many writers use the platform to promote their services and connect with potential clients. Here are a few different ways you can go about finding content writers on Facebook:
Search for writing groups: Facebook has a number of writing-related groups where writers share their work and discuss their craft. Try different search terms like "content writing," "freelance writing," or "copywriting", and you will be able to find relevant groups where you can connect with writers.
Browse through Facebook Pages: Many Facebook pages cater to the writing industry. Also, many writers have their own Facebook page to promote their services.
Use Facebook's search function: Type "content writer" or "freelance writer" in the search bar along with the location. And you can find a bunch of profiles, pages and posts related to content writing.
Ask for recommendations from friends: If you know someone in the writing industry, ask them if they know any content writers in Sri Lanka. Personal recommendations can be helpful in finding a reliable writer.
How to find content writers in Sri Lanka on Linkedin?
Every content writer who is serious about their work hangs out on LinkedIn. Here are a few tips for finding content writers on LinkedIn:
Use LinkedIn's search function: Type "content writer" or "freelance writer" in the search bar along with the location if you prefer writers from Sri Lanka. This will show you a list of writers who match your criteria. Many writers on LinkedIn will have a portfolio of their work on their profile. This will give you an idea of their writing style and quality.
Look for endorsements and recommendations: Look for writers with endorsements from people in your industry and check their recommendations section for feedback from previous clients.
Join relevant groups: LinkedIn has a number of writing-related groups where writers share their work and discuss their craft. Joining these groups and interacting with the members can be a great way to connect with writers and find potential candidates for your project.
Google Search
The best thing about working with freelance content writers that pops up with a google search is you don't have to doubt their SEO skills as they've managed to get them on the 1 st page of Google for relevant keywords.
Ask a friend
Check with your circle and see if anyone knows a content writer that can help you with your project.
---
Step 3 – The Interviewing Process
When screening a freelance content writer, it's important to check their
Experience
Samples
Testimonials
Industry Expertise
Prices
Experience
How many years of experience do they have? In which industries? Who are their past clients?
If you got it all covered, from content strategy, planning content ideas, content calendars, and creating article layouts, you would be alright even with a newbie if they have a compelling writing style.
But if you need help with content strategy, SEO, and content marketing, it's always wise to hire a well-experienced writer with at least 5 years of experience.
Samples
Check for their previous samples. If the writer sends you 3 or more samples from different sites, it's a good sign.
But keep in mind some writers share articles they've found on the internet to impress their prospects.
So we would highly recommend getting a small free sample done (around 200 words) on a given topic to see how they really perform.
Testimonials
Samples will show the quality of the work.
There is no better way than testimonials to gauge a service.
Check for their social media and see if you can find any reviews or recommendations on Facebook or LinkedIn. If not, ask them to see a few of their testimonials.
Industry Expertise
Check if they have any experience and knowledge in your industry. This will help them easily create in-depth content with good insights.
Industry expertise is not a must, but if you are in a complex niche such as marketing, Technology, or Insurance, the best option is to hire someone with some experience in the industry.
So you can enjoy a hassle-free process.
Prices
Price is an important factor to consider when hiring a freelance content writer.
but deciding on pricing when hiring a content writer can be tricky, as there are many factors that can influence the cost of a writing project. So, here are a few things to consider when determining a fair price for your project:
Experience and expertise: More experienced and accomplished writers will typically charge more than less experienced or less qualified writers. If the writer has specific industry knowledge or experience in the type of content you need, it will be reflected in their prices.
Type of content: The type of content you need will also affect the price. For example, writing an in-depth white paper or report may cost more than writing a blog post or product description.
The volume of content: The amount of content you need will also be a factor in determining the price. The more content you need, the higher the price will be.
Deadline: Urgency is another factor to consider. The tighter the deadline, the more the writer may charge.
Formatting and design: If you need the content formatted in a specific way or incorporated into a design, this will add to the cost of the project.
Research: Some writing projects may require extensive research, which can add to the cost of the project.
A common way to pay for content writing is by word count or by the hour. Some writers also charge a flat rate for specific types of content. So be sure to have a clear understanding of the scope of work, deadline and payment before proceeding with the work.
Learn about how content writers charge in Sri Lanka and discuss the best pricing model that works for you.
Most freelancers offer flexible pricing models, so you will be able to get pricing per word, per project, or on a retainer model as you like.
Revision Process
Ask them how many revisions they offer. Some may offer unlimited revisions, while others offer 2-3 revisions.
---
Step 4 – Onboarding
A well-planned onboarding process will set the foundation for your relationship with your freelance content writer.
The onboarding process communicates your expectations for the project and sets standards for a professional relationship and the responsibilities involved.
This will help you manage your freelancers easily while also enabling writers to understand your expectations right away to deliver a satisfactory service.
So when creating your onboarding process, keep in mind,
-To create thorough guidelines and briefs for the project.
-To develop a communication plan for your team and the freelancers to collaborate easily.
-To work on a communication schedule and set a meeting schedule to get updates.
-To introduce your freelance content writer to your relevant team members and get them to collaborate for better results.
-To assign a point of contact for the projects to share updates and get feedback.
-To clearly define the timeline for the project and deliverables and invoicing process.
-To provide a support system and all the necessary details to help them create top-notch content.
-To be flexible with your process and terms and be reasonable.
To listen to what the writers have to say and their expectations for the client.
This can be thorough brief, detailed feedback, documents for reference and support with industry knowledge etc. ( A happy content writer means happy results.)
---
Working with Freelance Content writers in Sri Lanka
To Successfully collaborate with freelance writers, you need to work on building long-term partnerships that demand very little time investment so you can yield great outcomes for your money's value.
Good Communication
You want your freelance content writer to get you to create good content.
They will try their best to understand your exact requirement and provide the best content solution.
You also should make an effort to understand your content writer.
Be reasonable with them, pay them a reasonable price, and don't rush them unless you have an urgent deadline to meet.
Because the stress you are putting on your writer will reflect on your content.
Handling Revisions
A few revisions don't mean that he or she is a bad writer. Maybe they are still getting used to working with you or have misunderstood something, or something has been miscommunicated.
Just give them good feedback on what you dislike and what they have missed. They will happily change them for you.
However, if you get a lot of revisions with every project, you will have to rethink your hire.
---
Final Thoughts
There are many content writers in Sri Lanka who can provide high-quality written content for your website or other marketing materials. Many have experience writing for a variety of industries and audiences.
When looking for a content writer in Sri Lanka, you may want to consider factors such as the writer's experience and areas of expertise, their writing style and tone, and their availability and turnaround time. It's also a good idea to request samples of their previous work, so you can get a sense of their writing quality and whether it aligns with your needs.
Many freelance content writers in Sri Lanka can be found through online platforms such as Upwork, Freelancer, and Google, but you can also try searching for writers on social media platforms like Facebook, Linkedin or Twitter. You can also try finding a writer through the professional network of people you know or check out with agencies that specialize in content writing.
Once you hire your content writer, ensure good communication with them and clearly state your expectation and goals. So you can get content that meets your expectations.
We hope this article will help you find a good content writer for your next project.